Last modified: August 1, 2014
Privacy Policies are used by companies to give you a false sense of security. When used in conjunction with a complex Terms of Service, they fail to provide you with any meaningful privacy or protection.
It's not surprising that few people read them. But Privacy Policies are a requirement, so here's ours.
We protect your privacy and security by not requiring you
to disclose any personal information.
We believe that the less personal information we collect,
the better we can serve you.
So we don't collect any!
Here's the fine print. There are many different ways you can use our services – to search for and share information, to communicate with other people, to create new content, etc. As you use our services, we want you to be clear how we're using information and the ways in which you can protect your privacy. There are two ways in which it is possible to collect information: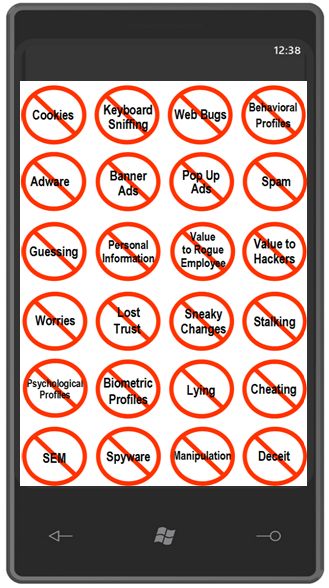 Information you give us. When you create your own account, you must provide us with a unique User ID. Please ensure that this cannot be used to identify you. You may delete this User ID at any time, and everything associated with it will be deleted so that it can be used by another person. You must also provide us with your email address. Please do not use one with your name in it!


Information we get from your use of our services. This includes behavioral profiles, cookies, keyboard sniffing, Web bugs, Adware, psychological profiles, biometric profiles, spyware, pixel tags, etc. We do not need and do not collect this information.
We do not share personal information with companies, organizations and individuals outside of YourCommand unless we have a good-faith belief that access, use, preservation, or disclosure of the information is reasonably necessary to meet any applicable law, regulation, legal process or enforceable governmental request, to enforce our own Terms of Service, including investigation of potential violations against the law, to detect, prevent, or otherwise address fraud, security or technical issues, and to protect against harm to the rights, property or safety of YourCommand, our users or the public as required or permitted by law.
This Privacy Policy may change from time to time. We will not reduce your rights without your explicit consent. We will post any changes on this page and, if the changes are significant, we will notify you by email. We will also keep prior versions of this Privacy Policy in an archive for your review.

Thank you.